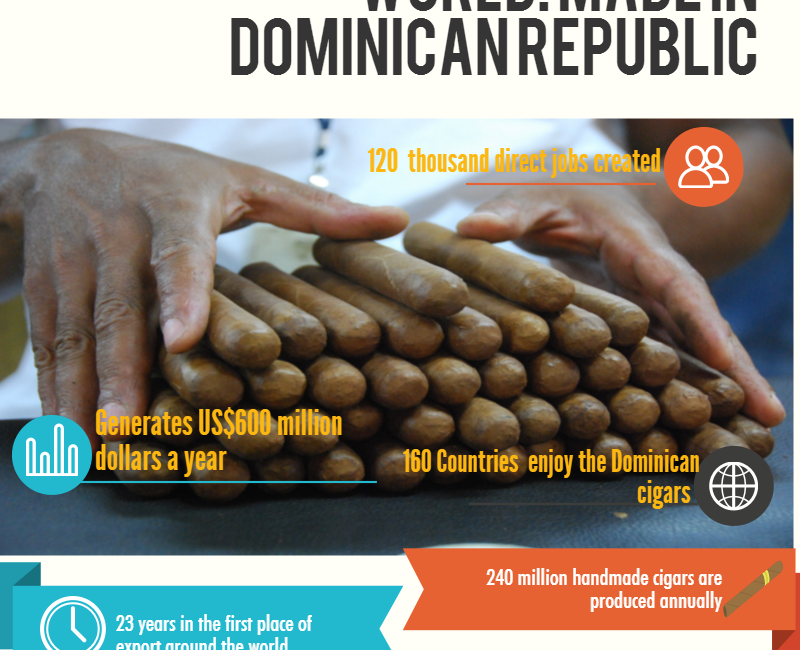 A handmade cigar is the Dominican ambassador par excellence. It promotes the country and its culture around the world, and is the only Dominican product present in more than 160 countries. In addition to the specific brands, it has a clear identity in each box that reads: "Made in the Dominican Republic".
To talk about the industry of the Dominican tobacco, is to speak of generations, of deep roots, strong traditions, and a broad culture of yesteryears, which starts from the way you handle the crops, to the processing, selection, and preparation of the hand-made cigar.
The cigar is a product of cultural consumption, enjoyed by natives prior to the arrival of Columbus to Quisqueya. Thus, it can be considered as a rescuer of the traditions of the first inhabitants of these lands, who used to burn leaves to communicate with their gods asking for peace, wellbeing, and prosperity for their people.
The Dominican Republic has remained as the top tobacco exporter around the world for almost 23 years.
The production of tobacco for export started to develop after the creation of the export processing zones in 1969. This opened the possibility of bringing into the country productions from other countries, creating a comfortable climate for investments and stimulating the takeoff of the industry of the handmade cigars, which reached the first place in exports worldwide by 1994. During the cigar boom, the US market went from importing between 90-100 million cigars annually, to nearly 500 million units.
The Dominican industry (which includes Premium handmade cigars and machine-finished cigars) generates more than 600 million dollars a year, while creating about 120 thousand direct jobs within the wide productive range.
According to Procigar's chairman, Hendrik Kelner, in addition to the economic and productive contribution, "the most important thing we must defend and want to preserve is our tradition and culture. Tobacco is linked to our culture; it's the product with the most permanent presence in our history, and even in our prehistory. When we defend this industry, we are not only defending the $600 million that the country produces, or the 120 thousand jobs, but we are defending the culture that was passed on from parents to children and grandchildren, a culture that became a tradition and involves the way of doing things and the knowledge acquired from experience, that is the pride of an entire nation, and above all, of a region, the Cibao".
Regardless of the good atmosphere generated when accompanied by a good cigar, this crafty industry is part of the deep Dominican roots and an important boost for the economy, aimed at high growth and great development.