In 1992, the most traditional and experienced Cigar Manufacturers in the Dominican Republic formed Procigar, an association whose objectives then and now, are to defend, protect and divulge the good name of the land of Cigar Country, exporter of the best Premium cigars in the world.
Preserving this heritage and maintaining the quality on which is built is the mission of the Association of Dominican Cigar Manufacturers, ensuring the Cigar Country's continued status as the world's number one premium cigar manufacturer.
Following the footsteps of those visionaries who first recognized the crystal clear rivers and fertile mountain valleys as ideal tobacco country, building on traditions that have been passed down in meticulous detail from generation to generation, our association is committed to preserving the consistent quality and unrivaled reputation of Dominican Cigars.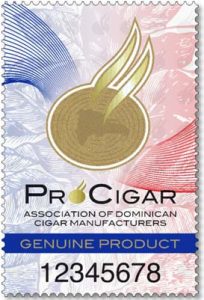 As part of our commitment to quality, we are proud of our Seal, which is exclusive for the Procigar Members.
The Dominican Cigar association's members, cigar manufacturers of world-renowned brands, have established quality levels among themselves to make sure that the Dominican cigar, already a standard for excellence in the world, maintains its enviable status.
Each member company is committed to uphold the established guidelines that qualify their products to be known as the best from the Dominican Republic – Cigar Country.
Old World's craftsmanship has been refined and perfected into new meaning. Cigar Country's artisans have no equal anywhere in the world for their cigar making skills and their passion to provide supreme smoking pleasure and relaxation.
Today, the Dominican Republic, produces and exports the finest handmade, premium cigars in the world.
There is no land more qualified for the title "Cigar Country". We, the members of the Dominican Cigar Manufacturers Association, have dedicated ourselves high standard of quality and consistency to which we are collectively committed.
In the marketplace, we compete by bringing our own individual blends, with their nuances of taste and aroma, to cigar lovers all over the world.
In "Cigar Country", each of us strives to surpass even the high quality levels we have set for ourselves. This way, we can offer cigar aficionados all over the world the most consistent, tastiest cigars money can buy.
PROCIGAR
Only the Best…
Produce the Best!